​Heritage Park – Buy a Brick Program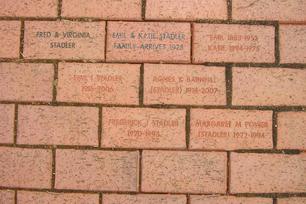 Lynnwood's Heritage Park celebrates the agricultural, transportation and social heritage of Lynnwood from its roots in the rural community of Alderwood Manor formed in 1919. Heritage exhibits throughout the park tell stories of life in early Alderwood Manor along with renovated and repurposed history structures and a beautiful brick plaza.
You can become part of this rich history by having your name, or the name of a loved one, inscribed in a commemorative brick in the Plaza. It can be inscribed with an individual or family name, creating a lasting memorial. You may also choose to honor or memorialize someone who has made a difference in your life, such as a parent, spouse or friend.
We invite you to participate in this ongoing historic campaign by purchasing a commemorative individual brick. The $50 cost per brick includes an inscription that consists of 2 lines up to 20 characters/line (including spaces) for individuals, families or nonprofits. All bricks are sandblasted for lasting letter clarity. Businesses can also participate with a $100 brick purchase.
​How to Select Your Inscription
​Your inscription can be up to 2 lines with each line up to 20 characters (including spaces, numbers and punctuation)

These are typical inscription orders:
Memorial bricks: 1st line Name, 2nd line birth/death years
Family Tree: 1st line Family Name, 2nd line notable year or place
Living Loved One: 1st line Name, 2nd line notable relationship, years of service, or title
​How to Purchase a Brick